Monthly Sales
Showing all 12 results
View cart
"Mustang Gasser "Stinger" – 1969 (Cyber Monday Special)" has been added to your cart.
Sale!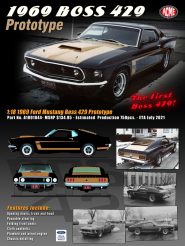 Ford Boss 429 Mustang Prototype (Cyber Monday Special)
Stock Number  - 1801844 Year / Make / Model  - 1969 Boss 429 Prototype Exterior Color  - Black  Interior Color  - Gold Manufacture  - Acme Estimated Release Date  - Available Now! (1 Left) Production Number  - Limited Edition Scale  -  1:18 Special Offer!! Order this item and we will include a $10.00 Credit good towards any future purchase!
This was one of the first prototype Boss 429s built by Kar Kraft, the performance race shop that Ford contracted to build many prototypes and race cars during this era. This 429 was an exceptionally rare piece. It was painted gloss black with a gold hood and gold sport slat rear louvers and gold C stripes, like on a Boss 302, but instead of having Boss 302 on the fenders it read Boss 429! This car was the very prototype designed by famed Mustang designer Larry Shinoda and was supposed to be delivered to the Ford president Semon "Bunkie" Knudson. Unfortunately this delivery never occurred as Knudson was fired from Ford soon before he was able to take delivery of this infamous 429. Not knowing the significance of the car, the 429 prototype was moved to the employee resale lot and was bought by a Ford employee. The whereabouts of this Mustang are still unknown. The employee who purchased the car sold it not long after the purchase and enthusiasts have been searching for it ever since!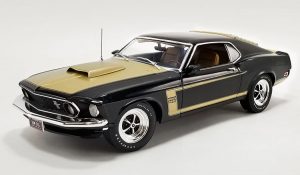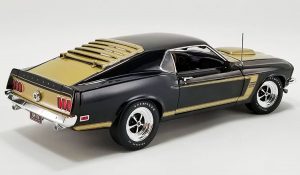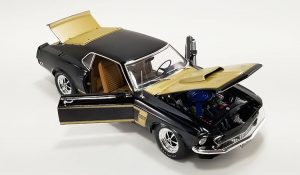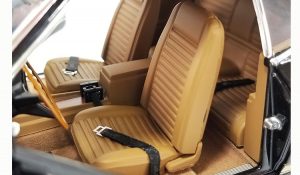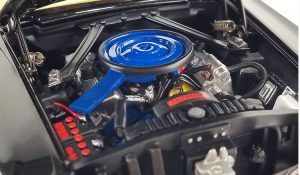 $

134.95
Add to cart