You can place your order by using our Secured "Shopping Cart" style ordering system.
MasterCard, Visa, Discover & American Express are accepted. This is a secured order form for worry free credit card purchases. A "confirmation e-mail" will be sent to you to let you know we received your order. This "confirmation e-mail" will normally come during normal working hours. (1 pm to 6 pm central time) If you place your order during the weekend we may not send you a confirmation e-mail until Monday morning.
Phone Orders: (715) 874-6037. We are in the central time zone. See chart below
You can place your order by calling us also. Our phone hours are 1 pm to 6 pm
Monday through Friday. We have an answering machine also so if we miss your
call you can leave your name and phone number and we will call you back as soon as possible.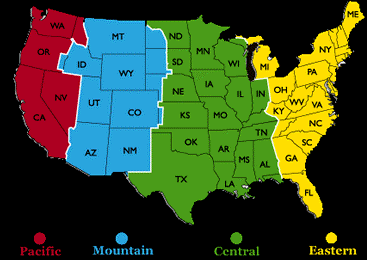 Die Cast Pricing:
If you have found a lower price on a competitors website we will match that price
in most cases. (Sale Prices and E-Bay auctions may or may not be matched). We will require proof of the price. This would be a link to the website advertising the lower price in most cases. Please Note that shipping Fee's may also apply.
Die Cast Layaway:
We can hold your order for up to Four weeks.   If you have ordered more than
one car and would like them shipped together to save on the shipping costs we
can do so providing the "out of stock" model arrives within that time period. With our continued growth of customers we simply don't have the space to hold the cars any longer than four weeks. If an exception is made and we hold something beyond the four week time period we request that the items be paid for minus Shipping Fees which will be applied on the actual ship date.
(We apologize for having to implicate a time frame on this but we hope you understand.)
Security:
Our online order form is Simple and Secure for worry free credit card purchases.
We pay our server extra for this so our customers do not have to worry when
purchasing online with a credit card. We also value your privacy. Your personal information will never be sold to "third parties".