Cuda Convertible – 1970 (New Tooling!)
Stock Number  – 1806129
Year / Make / Model  – 1970 HEMI Cuda Convertible
Exterior Color  – Yellow
Interior Color  – Black
Manufacture  – Acme
Scale  –  1:18
Production Number  – 750
Estimated Release Date  – November 2023
Please Note – If you're comparing prices be sure to factor in our competitors Shipping Fee's. 
Most of our Cars have Free Shipping! We pack with care as well!
Special Offer!!
Our price includes the Shipping Fee if you're in the Lower U.S 48!
Sorry but this offer excludes all foreign shipments as well as HI, P.R. & AK
.
Make no mistake, 1970 Hemi 'Cudas are rare. Plymouth made just 652 Hardtops total to be exact.
Most customers had one thing in mind: Going really, really fast in a straight line, either from one stoplight to the next or perhaps 1320 feet at a time. Only 18 people in 1970 wanted their Hemi 'Cuda to put a little more wind in their hair. By the late 1970s Hemi convertibles were roughly $10,000 cars. In the mid-1980s a few sold in the $25,000 range. By 1990 they had just tipped into six-figure territory. And at the beginning of the 2000's a few traded in the half million dollar range. Serious money to be sure.
.
Note: Your Credit Card will not be charged until the item is ready to ship!
.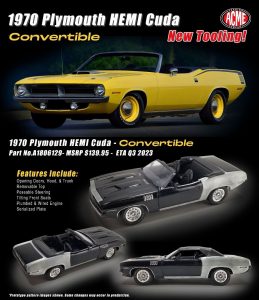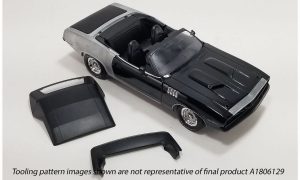 Available on backorder