Chevy Bel Air Nomad – 1955
Stock Number  – 1807009
Year / Make / Model  – 1955 Bel Air Nomad
Exterior Color  – Red w/ White Top
Interior Color  – Two Tone Red White 
Manufacture  – Acme
Estimated Release Date  – 1st Qtr 2024
Production Number  – 996
Scale  –  1:18
Please Note – If you're comparing prices be sure to factor in our competitors Shipping Fee's. 
Most of our Cars have Free Shipping! We pack with care as well!
Special Offer!!
Our price includes the Shipping Fee if you're in the Lower U.S 48!
Sorry but this offer excludes all foreign shipments as well as HI, P.R. & AK
.
ACME is thrilled to present pics of the final tooling sample of our 1:18 1955 Chevrolet Bel Air Nomad! We are expecting the first decorated sample in the next 3 – 4 weeks and production will begin after that sample is approved. If all goes well, we hope to have production completed and shipped to us in late October giving us a December arrival. 
 When Chevy's line of cars was redesigned in 1955, they added two new editions: the upscale Bel Air model and the Bel Air Nomad, a 2-door sport wagon. The latter was based in part on a 1954 Corvette show car that had many of the styling cues that made it into the production Nomad which caused a lot of buzz!  From the cowl forward, the wagon was all Bel Air. But from the windshield back, it had its own body that shared no sheet metal with other Chevy station wagons. Only 8,386 1955 Chevrolet Bel Air Nomads were produced.
The Chevrolet Nomad could carry up to 6 people, or make some muscle car noises. Priced at $2,571 in 1955, the Nomad came with a 265 cubic-inch V8 as standard equipment. The top-of-the-line engine in 1955 for the Nomad was a Chevy small block with a four-barrel carb and dual exhausts. This setup was good for a maximum of 180 horsepower and 260 lb-ft of torque.

Note: There may be some minor changes that may occur before final production.
.
Please Note:  We do not charge your credit card for Pre Orders or Back Orders until the item is in stock and ready to ship to you!
.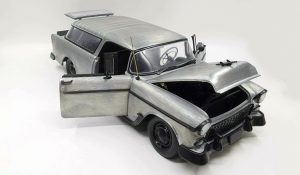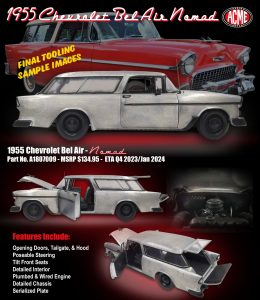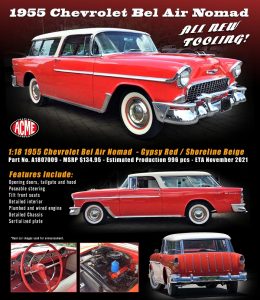 .
Available on backorder