Plymouth HEMI Cuda Super Track Pack – 1971 (Limited Edition)
Stock Number  – 1806126-VT
Year / Make / Model  – 1971 HEMI Cuda Super Track Pack 
Exterior Color  – Goldleaf Metallic w/Black Vinyl Top
Interior Color  – Black
Manufacture  – Acme 
Release Date  – Available Now!
Production Number  – 426
Scale  –  1:18
If there is a single car that typifies the finale of the American muscle-car era, it is the 1971 Plymouth Hemi Cuda!  Under the Shaker scoop is the legendary Chrysler Hemi engine, birthed for NASCAR dominance and in its final production season in 1971 before bowing out due to government regulations and insurance premiums. Dual 4-barrel carburetors scream for mercy as they push fuel through the hemispherical cylinder heads, with dual exhaust emitting a fearsome roar. Only 108 hardtops were produced and this Hemi Cuda features the unique combination of Goldleaf Metallic paint coupled to black Hemi billboard striping.
Special Offer!!
Order this item and we will include a $10.00 Credit good towards any future purchase!
Please Note:  We do not charge your credit card for Pre Orders or Back Orders until the item is in stock and ready to ship to you!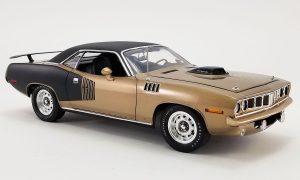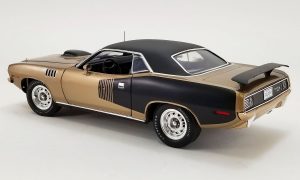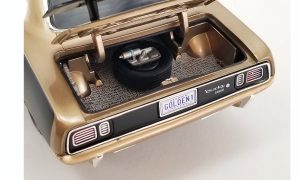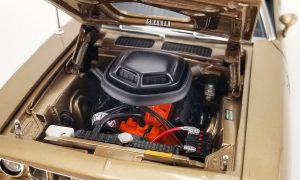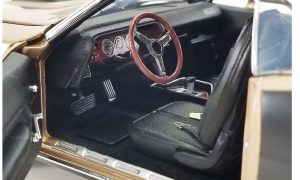 Available on Pre Order