Chevelle "Briggs" Drag Car – 1970
Stock Number  – 1805522
Year / Make / Model  – 1970 Chevelle Drag Car "Briggs"
Exterior Color  – Race Day Look
Interior Color  – Black
Manufacture  – Acme
Release Date  – Available Now!
Production Number  – 774 (SOLD OUT)
Scale  –  1:18
The 1970s were prime time for drag racing, and during that time period Mopar reined supreme. That is, until Ray Allen entered the scene. He decided to bring Chevrolet to frontline with all-powerful LS6 build, and in the process he created an icon.
Easily one of the most well known vehicles to vintage racing fans, this 1970 Chevrolet Chevelle was piloted by Allen, and the already established Ralph Truppi and Tommy Kling. The trio sprinted their way to an unbeaten season in 1970, setting a national record at that time of 11.33 seconds, clocking in a half second faster than the Mopars across the field.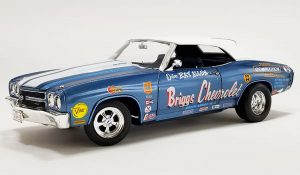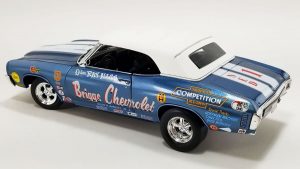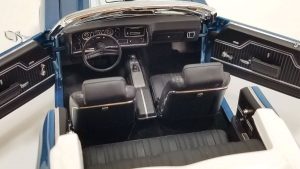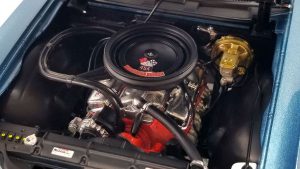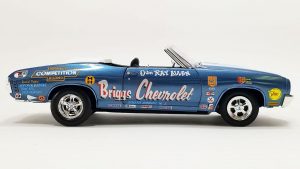 Out of stock